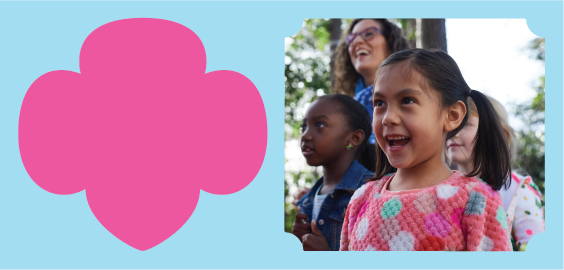 After clicking the Join button above, select Find Troops to get started.
Right now, Girl Scouts are meeting furry friends at their local animal shelters, giggling past lights-out at sleepovers, and learning how their favorite roller coasters work.
Above all else, they're having a blast—because they know bringing the fun is all about being their true selves, trying new things, and cheering each other on.
Get ready to join the crew and bring a bit more happy to your life.
And grownups? You can have a front-row seat to the fun and community, too!
Girl Scouts is family-friendly and parents are encouraged to participate as volunteers. But that's not all. We know parenting roles are not limited to moms and dads, so you can be certain that all parental figures are welcome to join—grandparents, god parents, foster parents, aunts, uncles, family friends, neighbors, teachers… any adult mentor who believes in championing girls.
Press play and volunteer with Girl Scouts. You've got what it takes to change girls' lives.

Complete this interest form so that our friendly member services department can contact you about getting started at Girl Scouts. Or call Customer Care at 213-213-0123 for immediate assistance.