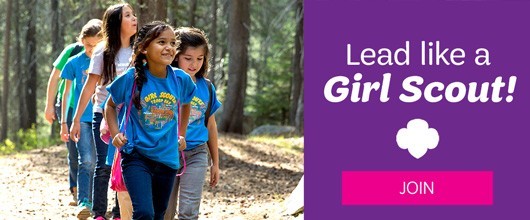 When a girl unleashes her inner G.I.R.L., she can accomplish anything!
At Girl Scouts, the next opportunity to stand up, speak up, and take the lead is never far away. With us, she'll discover the G.I.R.L. (Go-getter, Innovator, Risk-Taker, Leader)™ within, and watch her shine, again and again.
With us, the possibilities are truly endless. She'll discover all she can be and everything she can accomplish when she has the right tools and a safe space to explore, gain important skills, make friends—and work together to change the world. 
So what are you waiting for?
 
Already a member? Log in to MyGS to renew.
---

Learn More About Girl Scouts
Don't see a troop in your neighborhood? Make one! Get a front-row seat to your girl's leadership development and experience the fun of Girl Scouting together! Attend an upcoming troop-forming event in your community, or fill out our interest form to request more information about starting your own Girl Scout troop. We provide the training and support, you set the troop schedule, and the girls take the lead! 
Need to know more so you can decide what's right for you? Check out all the different ways to take the lead at Girl Scouts. Or, see all the exciting possibilities Girl Scouts offers for girls of all ages and choose your adventure.