Girl Scouts is a lifelong journey. Today, girls are dreamers, makers, and innovators. Through Girl Scouts' girl-led community, they will gain the skills to take them wherever they want to go, so that tomorrow, they can continue to grow in their roles as entrepreneurs, trailblazers, and leaders. YES, I AM is a message to our Girl Scouts: We believe in your boundless potential. You possess the power, talent, and courage to make the world a better place. And, we can't wait to see what you will achieve!
Continue >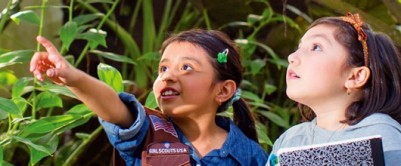 Get ready to choose your own adventure! Girl Scouts of the USA announced 42 new Girl Scout badges and one new Journey on July 16, all of which allow girls to make their own choices about how they want to experience and influence the world. The badges enhance the organization's existing girl-led programming, offering girls everything from adventuring in the snow or mountains to learning how to use coding to solve problems they care about.

Continue >

GSGLA's new service center and adjacent planned Inglewood Innovation Center will serve as a program hub for the council's 45,000 Girl Scouts, including the nearly 15,000 girls from Inglewood and surrounding communities. A grand opening on Feb. 24 welcomed more than 600 attendees as well as special guests Congresswoman Maxine Waters, Inglewood Mayor Butts, Jr., Inglewood City Councilmembers, and more. 
Continue >