A national research study, released Nov. 19 in honor of Women's Entrepreneurship Day, finds that girls today are interested in entrepreneurship, and many are already thinking like entrepreneurs. But while  girls express confidence in their ability to be entrepreneurs, they also identify challenges to getting started, including fear of risk and gender stereotypes. Girls are ready—but are we prepared to support them? 
Continue >

We have some exciting news to share! The GSGLA Board of Directors' Search Committee has successfully concluded the search for GSGLA's next CEO, as Lise Luttgens retired on Sept. 6 after 11 awesome years at the helm. We are pleased to announce that Theresa Edy-Kiene will assume the role of CEO of GSGLA, effective Sept. 16. Welcome, Theresa!
Continue >

Girl Scouts is a lifelong journey. Today, girls are dreamers, makers, and innovators. Through Girl Scouts' girl-led community, they will gain the skills to take them wherever they want to go, so that tomorrow, they can continue to grow in their roles as entrepreneurs, trailblazers, and leaders. YES, I AM is a message to our Girl Scouts: We believe in your boundless potential. You possess the power, talent, and courage to make the world a better place. And, we can't wait to see what you will achieve!
Continue >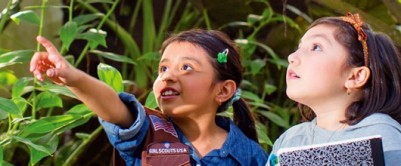 Get ready to choose your own adventure! Girl Scouts of the USA announced 42 new Girl Scout badges and one new Journey on July 16, all of which allow girls to make their own choices about how they want to experience and influence the world. The badges enhance the organization's existing girl-led programming, offering girls everything from adventuring in the snow or mountains to learning how to use coding to solve problems they care about.

Continue >